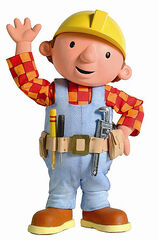 Roles
He played Pinocchio in Bobnocchio
He played Robin Hood in Bob Hood
He played Benji in Bob (Benji) Series
He played Tenderheart Bear in Care Builders
He played Fireman Sam in Fireman Bob
He played Mr. Conductor (George Carlin) in Shining Time Station
He played Hans (Nutcracker) (Human) in The Mr. Bump Prince
He played Peter Banning/Peter Pan in Clayton (Hook)
He played Wally/Waldo in Where's Bob?
He played Doug Funnie in Bob (Doug)
He played Darien/Tuxedo Mask in Sailor Wendy
He played David Copperfield in Bob Copperfield
He played Prince Cornelius in Wendylina
He played Sheriff Woody in Builder Story Series
He played Arthur Read in Bob (Arthur)
He played Adult Dimitri in Wendystasia
He played Professor Philip Brainard in Two (Flubber)
He played Peter Griffin in Builder Guy
He played Harry Potter in Bob Potter Series
He played Oswald the Octopus in Bob (Oswald)
He played Spider-Man in Spider-Builder Series
He played Todd in BobWorld
He played Danny Fentom/Danny Phantom in Bob Phantom
He played Victor Van Dort in Ladybug Bride
He played Chase Matthews in Wendy 101
He played Manny Garcia in Handy Bob
He played Super Why in Super Bob!
He played Timmy in Bob Time
He played Norman in ParaBob
He played Wally Trollman in Bobkazam!
He played Sir Gary Galavant in Bob (Galavant)
He played Chuck McFarlane in Bob's Choice
He played Frank Nicholas in Show Pets
He played Bluey Heeler in Bob (Bluey)
He played Melvin Melvin Jr. in Wendy Hatcher
Portrayals
Relatives
Friends - Kelly, Marsha, Penny Morris, Sara Clifton, Varian, Eugene, Lance Strongbow and Hugo
Best Friends - Manny Garcia, Postman Pat, Fireman Sam, Big Chris and Engie Benjy
Mother - Dorothy
Father - Robert
Brother - Tom
Wife - Wendy
Father-in-Law - Mr. Bentley
Mother-in-Law - Mrs. Bentley
Sister-in-Law - Jenny
Ex-Wife - Marjorie
Pets - Pilchard and Fin
Other pet - Scruffty
Uncle - Mr. Beasley
Aunt - Mrs. Potts
Daughter - Penny Peterson, Betty Barrett, Cecilia Nuthatch and Penny
Son - Sherman Peabody, Noah Parker, Louie and Cody
Voice Actors
UK version
Neil Morrissey (1998-2011 TV Series) and Lee Ingleby (2015-2018 TV Series)
US version
William Dufris (2001-Early 2005 TV Series), Greg Proops (Late 2005-2007 TV Series), Marc Silk (2008-2011 TV Series) and Colin Murdock (2015-2018 TV Series)
Gallery
Community content is available under
CC-BY-SA
unless otherwise noted.